...Our Daysie...
DKCH, KLBCH. Waldor Make M Day For N.C.S.
*****
DOB. 10.06.99
Danish CH. 24.03.01 * KLB.CH 11.05.02
PARENTS
GRANDPARENTS
GREAT GRANDPARENTS
GREAT GREAT GRANDPARENTS
ENG.CH and Crufts winner 99 Koramia The Riddler By Britishpride
Britishprid Power N Glory
Petworth Captai Pugwas of Ringablok
Setsquare Surrey Oak of Quintic
Petworth Polly Perkins
Petworth Passion Potter of Britishpride
Eng Ch Storming Passion at Ocobo
Petworth Polly Perkins
Rolladollar M'Lady For Koramia
Holbain Snow Storm At Rolladollar
Irish Ch The Nobler at Holbain
Holbain First Lady
Foresquare Candy Floss At Rolladollar
Rock 'n' Roll of Foresquare
Our Heidi of Tapeley at Foresquare
Havelock Royal Ruby of Waldor
UK CH Aldridge Apalation
ENG CH Isgraig Red Baron
ENG CH Aldridge Aristocrat O Brandywell
ENG CH Isgraig Looby Lou
Aldrigde Avita
Ch Aldridge Awanti
Aldridge Anatalie
Emjack Amber
Beau Brummell of Emjack
Quintic The Range Rover
Emjacks Kohinor
Emjack Pandora
Ch. Iscraig Wonderful Walter
Emjacks Pearly Queen¨
*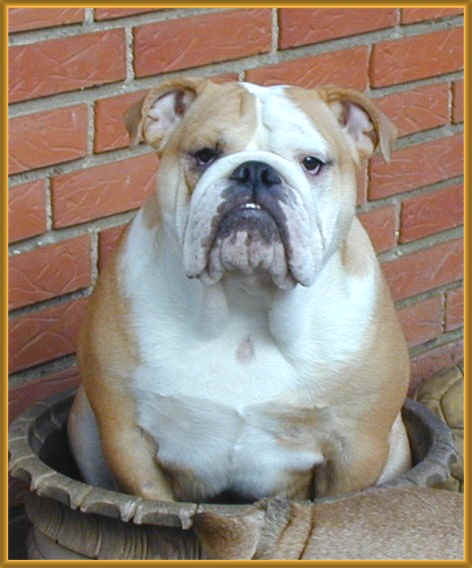 Hi, I'm Daysie
Mom and dad call me their English rose, because they love me allot :-)))
*
Noooo :-), they are just so grateful to my breeder, for getting me over to Denmark.
*
Well, I remember the day my Danish mom arrived, she had seen tons of pictures of
me and my litter mates, and she wonted to pick me or my sister Sonja,
Well I jumped as high as I culled, so she culled spot me over the other one's...
She judge all of us, one by one,,,,, and she look me over a few times, and I
notifies, she was doing something with her lips and the right eye, when she was looking me over...
And when she picket me up in here arms an kissed me and ask me, do you want me to be your mom ???
Slop sloops sloop, my tong was all over her face, yes yes yeeeess
Wauuu I was trilled when she said this is my Daysie !!!
She had already pickt my name to be, Waldor Make M Day For N.C.S.
And sure I did, I became Danish Champion only 19 months of age...
So you can say, I made it up to her :-)))
*
And as my old mom said, you spoil her to death,,, she was right, I am spoiled :-)))
And very much loved :-)))
*****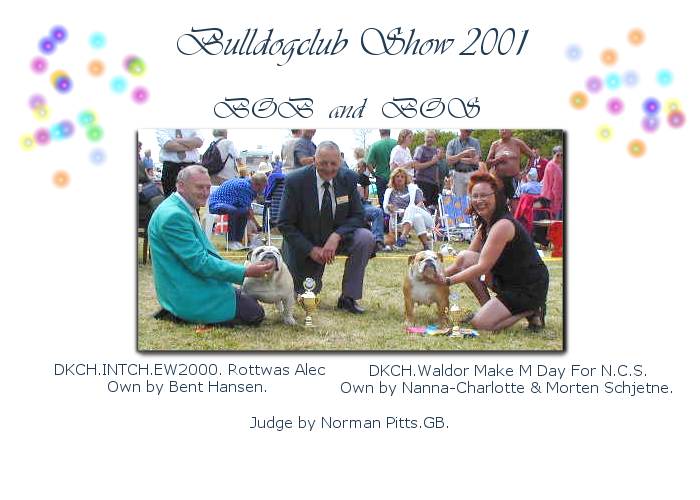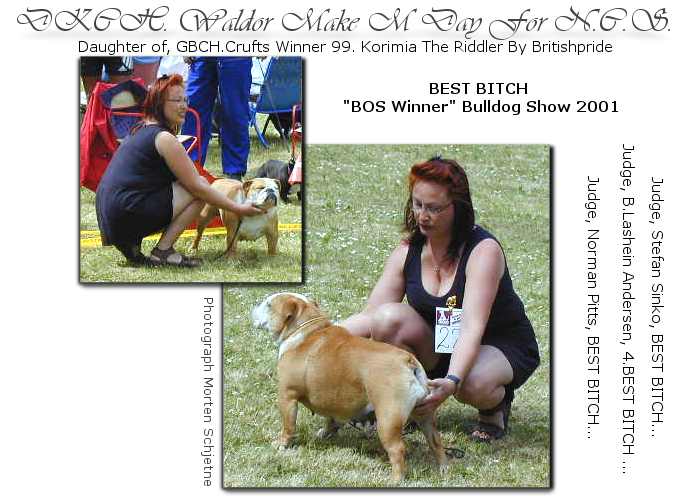 Daysie, have did it very well this year 2001, 5 BIM (BOS) out of 7 shows...
*****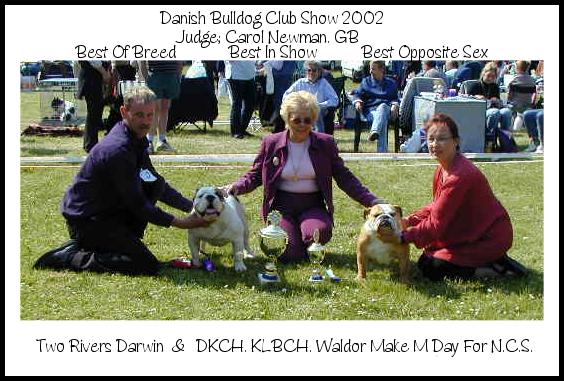 And Best Bitch again this year, she got her title KLB.CH at the show.
This was moms first shot, with her new Digital Camera, and she won a Second Place with it in a Photo Contest,by www.Hundeguiden.dk

This is my

"Champion"

picture, mom took it her self.

Just, sitting in my pot, the time I arrive to my new home, there was a lovely plant in this pot,,, but since mom and dad call me their English Rose, well, then I had to place myself into it...:-)

Look at my tummy, I'm pregnant...

Best Opposite Sex, 11 months.

Look at my tummy, I'm pregnant...

Daysie relaxing in the shadow.

Daysie 6 months pretty good in standing.

And take her nap outside the house.

Look at that face,isn't she a pretty baby ?

Daysie 4 months.

Daysie

Daysie 4 weeks.
*
My very first cat buddy, Jallis, sadly missed by liver cancer.
This pictures are from our very first meeting, aren't we just cute together ???
*
© Copyrights of all the Pictures and Web Design belongs to "SCHJETNE's BULLDOGS"
Do not copy without any permission from the owner/ web-master of this page, Nanna-Charlotte Schjetne, thanks...
Last Update of this page, 26. June 2003